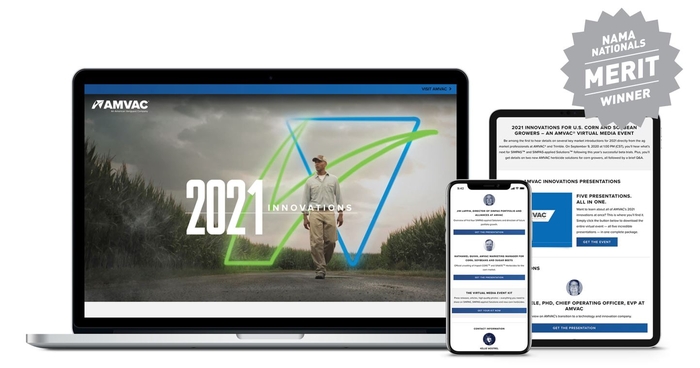 AMVAC® was awarded a Best of NAMA national merit award from the National Agri-Marketing Association (NAMA) at the Agri-Marketing Conference in Kansas City on July 20, 2021. The webcast/webinar merit award recognized the outstanding work accomplished during the AMVAC Virtual Media Event, held live on Sept. 9, 2020, and posted for continued access by ag media members interested in learning about AMVAC's ongoing innovations.
"It's an honor to be recognized with a Best of NAMA award for our work in media relations," said Bob Trogele, Chief Operating Officer and Executive Vice President at AMVAC. "During a time of the pandemic when travel was highly restricted, the event was an opportunity to connect with media representatives and share our innovations on SIMPAS®, SIMPAS-applied Solutions, and Impact CORE® and Sinate® Herbicides in a virtual way. I'm especially proud of our teams at AMVAC and Swanson Russell who put hard work and dedication into this event to make it an educational and powerful experience for everyone involved."
To prepare for the event, Swanson Russell, advertising and public relations agency for AMVAC, listened to ag media members as they struggled to get news and information as much of the ag industry's events were canceled during the coronavirus pandemic. In total, 15 ag media representatives participated in the online event, which resulted in 12 ag media mentions.
The Best of NAMA awards honor the best in agricultural marketing communications. To see more Best of NAMA award recipients, visit https://www.nama.org/best-of-nama.html.
About AMVAC Corporation
AMVAC Corporation is a subsidiary of American Vanguard Corporation. American Vanguard Corporation is a diversified specialty and agricultural products company that develops and markets products for crop protection management, turf and ornamentals management, and public safety and animal health applications. American Vanguard is included on the Russell 2000® & Russell 3000® Indexes and the Standard & Poors Small Cap 600 Index.
The Company, from time to time, may discuss forward-looking information. Except for the historical information contained in this release, all forward-looking statements are estimates by the Company's management and are subject to various risks and uncertainties that may cause results to differ from management's current expectations. Such factors include weather conditions, changes in regulatory policy and other risks as detailed from time-to-time in the Company's SEC reports and filings. All forward-looking statements, if any, in this release represent the Company's judgment as of the date of this release.
Contact Information