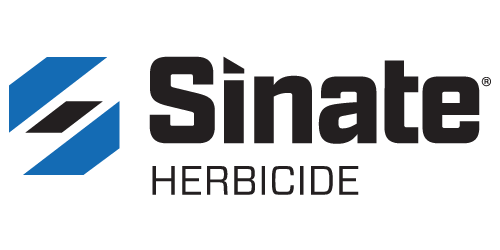 Sinate
Herbicide
SINATE® is a postemergence corn herbicide that controls herbicide-resistant weeds in corn with the LibertyLink® trait. SINATE also provides outstanding crop safety. The powerful one-two punch of topramezone and glufosinate provides punishing efficacy in the fight against herbicide-resistant weeds like waterhemp, Palmer amaranth and giant ragweed. [See SINATE video, field performance, and testimonials.]
Applications
For use on glufosinate tolerant field corn (grain and silage) and sweet corn containing LibertyLink traits.
Field corn containing LibertyLink traits: Emergence up to 24 inches tall/V7 stage of growth. Use drop nozzles for corn 24 to 36 inches tall.
Sweet corn containing LibertyLink trait: Emergence up to V6 stage of growth.
Features
Contains two effective modes of action to deliver postemergence control of key grasses and herbicide-resistant weeds like waterhemp, Palmer amaranth and giant ragweed.
Glufosinate combined with the active ingredient in Impact Herbicide delivers consistent performance on a wide spectrum of grass and broadleaf weeds.
The crop safety of topramezone from Impact and the inherent tolerance of the LibertyLink corn trait to glufosinate helps SINATE deliver outstanding crop safety.
Registered States
Find a Retailer
Get what you need, nearby.
Downloads
Label & SDS
Supplemental Documents
Label & SDS
Supplemental Documents
AMVAC's website is updated regularly and may not contain the most current EPA registered product label or safety data sheet. Please contact your local AMVAC representative to confirm you have current product information. It is the sole responsibility of the end user to read and follow product use directions and to comply with all federal, state or local laws. These products may not be registered in all states and users are advised to confirm that the product is registered in all states of intended use. Important: Always read and follow label instructions.