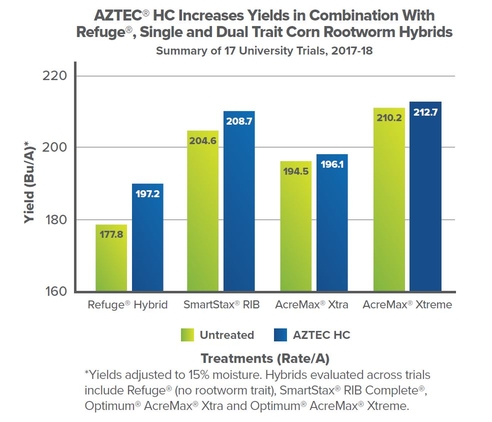 With several factors resulting in greater-than-usual corn rootworm damage in many parts of the U.S. Midwest in 2020, corn growers have been encouraged to anticipate CRW pressure again in 2021 and take steps to protect their crops.
A major part of the 2021 message: Don't skimp on use of soil insecticides, which several field trials suggest can make a difference in corn yields.
Seventeen AMVAC®-sponsored university trials in 2017-2018, for example, set out to demonstrate the yield response AZTEC® HC Corn Soil Insecticide produces in both conventional and traited corn. The trials featured AZTEC HC on rootworm trait hybrids (both single and dual mode of action traits) and hybrids without CRW traits.The finding: AZTEC HC provided greater percent consistency of root protection across trials for each hybrid platform tested – with increased yields for every Refuge®, single-, and dual-trait corn rootworm hybrid (see Bar Graph 1). Among traited hybrids, AcreMax® Xtreme, for instance, yielded an average of 212.7 Bu/A when treated with AZTEC HC vs. 210.2 Bu/A untreated (see bar graph). As might be expected, the yield difference in hybrids without CRW traits (Refuge®) was even greater: 197.2 Bu/A when treated with AZTEC HC vs. 177.8 Bu/A untreated.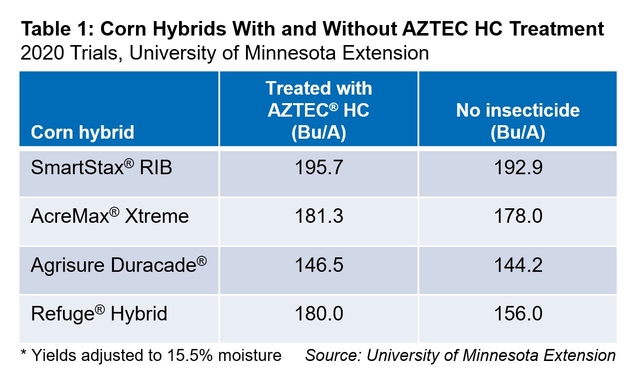 Similar Results in 2020 Minnesota Trials
A 2020 trial conducted by University of Minnesota (UM) Extension and funded by AMVAC came to a similar conclusion. Setting out to evaluate the potential benefit of layering insecticides on corn hybrids without and with Bt rootworm traits, the trial found that application of AZTEC HC led to numerically higher yield across all trait platforms vs. untreated. Average yield of SmartStax® RIB, for example, was 195.7 Bu/A treated with AZTEC HC vs. 192.9 bu/A untreated (see Table 1). And again, yield difference trended higher with the non-CRW-trait Refuge hybrid: 180.0 Bu/A treated with AZTEC HC vs. 156.0 untreated.
A related trial by the same UM researchers, funded by AMVAC and Valent®, looked to evaluate the efficacy of in-furrow liquid and seed applied insecticides against corn rootworm as compared to a granular in-furrow insecticide and a no insecticide control. A single hybrid, Lake Country LC 0488 VT2PRIB, was used.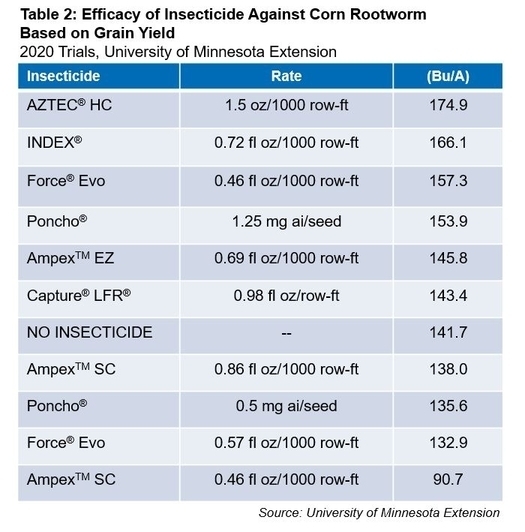 Trial results showed that AZTEC HC and INDEX® Liquid At-Plant Insecticide – both AMVAC products – had numerically higher yield than all other trialed insecticides (see Table 2). AZTEC HC led all products trialed with an average grain yield of 174.9 Bu/A.
The researchers noted that, related to corn rootworm efficacy, AZTEC HC was the only insecticide treatment that did not have a node injury score of more than 1 (one node pruned to within 1.5 inches of the plant).
"We're pleased the results of these trials support not only the use of corn soil insecticides to control corn rootworm beyond traits, especially heading in a tough year for CRW pressure as is anticipated for 2021, but that they also highlight the market-leading position of AMVAC insecticides," said Nathaniel Quinn, AMVAC Marketing Manager for Corn, Soybeans, and Sugar Beets. "AMVAC has solutions for CRW protection in both insecticide products and equipment choices."
For more information:
About AMVAC Corporation
AMVAC Corporation is a subsidiary of American Vanguard Corporation. American Vanguard Corporation is a diversified specialty and agricultural products company that develops and markets products for crop protection management, turf and ornamentals management, and public safety and animal health applications. American Vanguard is included on the Russell 2000® & Russell 3000® Indexes and the Standard & Poors Small Cap 600 Index.
The Company, from time to time, may discuss forward-looking information. Except for the historical information contained in this release, all forward-looking statements are estimates by the Company's management and are subject to various risks and uncertainties that may cause results to differ from management's current expectations. Such factors include weather conditions, changes in regulatory policy and other risks as detailed from time-to-time in the Company's SEC reports and filings. All forward-looking statements, if any, in this release represent the Company's judgment as of the date of this release.
Contact Information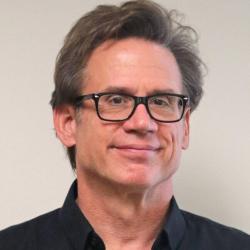 ©2021 AMVAC Chemical Corporation is a wholly owned subsidiary of American Vanguard Corporation. All rights reserved. American Vanguard, AMVAC, AZTEC, and INDEX and respective logos are trademarks owned by AMVAC Chemical Corporation.
AcreMax Xtreme and Optimum are trademarks of Pioneer Hi-Bred International. Agrisure Duracade, Force and Refuge are trademarks of the Syngenta Group. Ampex and Valent are trademarks of Valent U.S.A. Capture and LFR are trademarks of FMC Corporation. Poncho is a trademark of BASF Corporation. RIB Complete and SmartStax are trademarks of Monsanto Technology.
AZTEC, Capture, Force, and INDEX and are restricted use pesticides. Important: Always read and follow label instructions. Some products may not be registered for sale or use in all states or counties. Please check with your state agency responsible for pesticide registration to ensure registration status.