A true American family farm – that's how Tommy Young, a third-generation farmer from Tuckerman, Arkansas, describes the corn, wheat and soybean operation of which he is a partner with his family. Back in the late 1970s the Youngs were the first family in their area to grow corn. Ever since, this farming family strives for excellence in every aspect of their operation.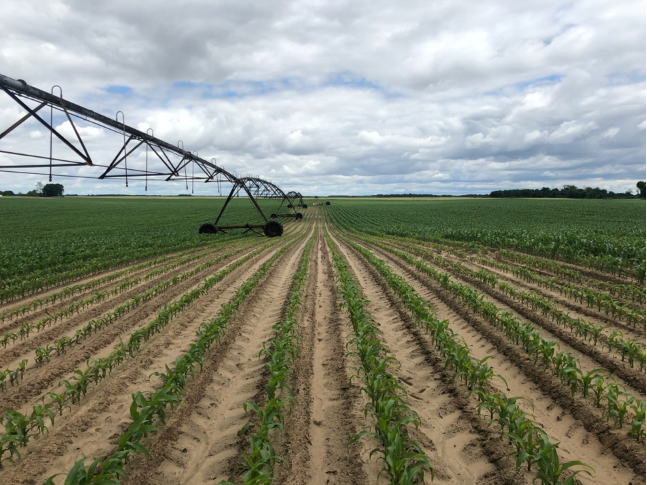 In 2014 Young took on one thousand acres of unfarmed dry land, installed five center-pivot irrigation units and was ready for the first-ever corn crop to be grown on the parcel. As a fan of technology and innovation, he believes data allows strategic decision-making to ensure high yields. "Our crops are grown in a very 'fine-tuned' environment," he said. "Every single step in the process is thorough, from applications to soil tests, to irrigating, to drying of the corn – everything is precise."
That's why Young was extremely concerned when areas of corn on the family's land wouldn't grow more than a foot tall. The family had done everything right, rotating the crop with winter wheat and soybeans. When it was corn's turn again, Young tried applying an insecticide at a high rate on the seed. No luck – the corn was still stunted.
After a discussion with his local Extension agent, Young discovered his corn was attacked by stubby-root nematode. feeding on the roots and stunting the corn's growth.
Finding a Solution to a Nematode Problem
By the third year, the Young family was just about to give up on growing corn on the land until COUNTER® Insecticide and Nematicide from AMVAC® came into the picture.
"Getting the diagnosis was one thing, but finding the cure was so much better," Young said.
The family's agronomist suggested COUNTER because of the success he had seen the product achieve in Missouri in combating nematodes. Young was ready to give it a try. He had initial apprehension about investing in new equipment to apply the product accurately, until his local AMVAC representative suggested using the SmartBox® system.
"Here we were thinking we had to modify our planters and spend a lot of money changing our hopper configurations, but the SmartBox system works with our GPS [guidance system] and put out the product accurately," he said. 
Young equipped his three 12-row planters with SmartBox and started applying COUNTER.
"I am telling you here, and I am truthful – we went from 160 bushels per acre overall average to over 210 overall average overnight," Young said. "Our corn was able to live through the nematode attacks and come up even and strong."
With such a positive jump in yield, Young was delighted to finally find something that would allow him to farm that area of land. "COUNTER has gotten us to where we can grow corn and feel comfortable that we won't have any problems," he said.
Analysis of the corn crop data showed the expense incurred from controlling nematodes with COUNTER is worthwhile for Young in the long run. "We saw the result in yield," he said. "Everything comes back to yield, and if you can justify your expenses with increased yield, then it's worth it."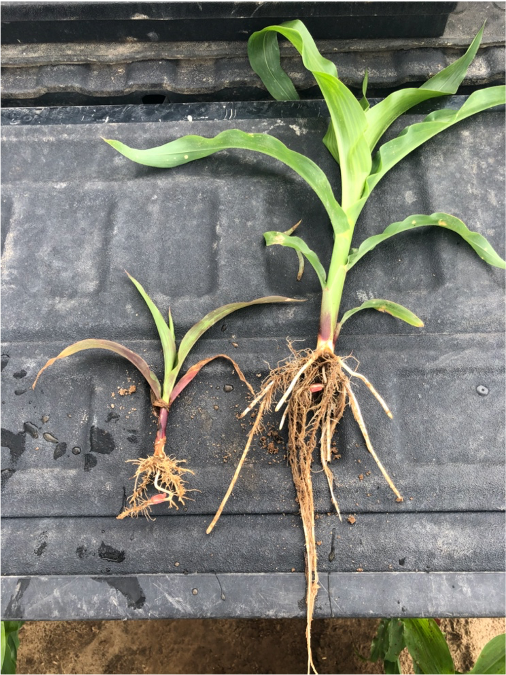 One-Two Punch: COUNTER® and IMPACTZ®
When Young switched to COUNTER, he knew he needed to change his herbicide as well. Because IMPACTZ® and COUNTER work hand in hand, that's the approach Young took.
"I was skeptical at the time that IMPACTZ would do as well as the herbicide we were using previously, but our AMVAC rep said it would work great with our grasses," Young said. "Also that it would get on top of our Palmer amaranth, which is Armageddon in our area – and it did."
These two powerhouse products delivered and gave Young good, clean rows of corn. The combination is "as good of a product as any of the others on the market," he said. "And honestly, I'm sold."
Young wants to help his fellow farmers and uses his experience to educate and advise those who run into the same problems with their corn. "If you're having any problems with your corn, COUNTER and IMPACTZ will take care of it," he said.
Understanding the Importance of Inputs
Young's farm ultimately has found success in growing corn, and a big part of it is in understanding the importance of inputs. "All we know how to do is grow a good crop and get good yields on every acre," he said. "We have to continue to farm the crop the way we always have, which means putting in those essential inputs."
During this economic downturn, times are tough for everyone, including farmers. Young advises finding ways to become efficient through technology and innovation. "Pick those specific things on your operation you can be more efficient with, but don't cut yourself short on those key inputs."
Using the necessary resources to treat problems effectively should never be overlooked, he said. To find out how to address issues in the field, Young encourages farmers is to get involved. "Investigate, ask questions, network, go to educational meetings and events. I guarantee you'll find the answer to your problem," he said. "Don't give up if you can't find the answer to your problem, and don't be afraid to try new things."
Interested in COUNTER and IMPACTZ for your corn? Contact your local AMVAC rep for more information: https://www.amvac.com/tools-resources/find-field-rep
©2021 AMVAC Chemical Corporation is a wholly owned subsidiary of American Vanguard Corporation. All rights reserved. AMVAC, ImpactZ, Counter and respective logos are trademarks owned by AMVAC Chemical Corporation.
ImpactZ is a restricted use pesticide. Important: Always read and follow label instructions. See label for listed weeds and pests. Some products may not be registered for sale or use in all states or counties. Please check with your state agency responsible for pesticide registration to ensure registration status. All products are EPA registered. A290-063670 1/21