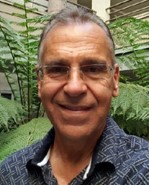 Dr. Peter J. Porpiglia, AMVAC® Vice President of Product Development and Technical Support, was honored with the Weed Science Society of America (WSSA) 2021 Outstanding Industry Award during the society's recent annual meeting.
Porpiglia – a 30-year-plus veteran of agricultural R&D, management, and leadership – was nominated by multiple WSSA members for achievements including "exceptional leadership and service to weed science and agriculture, increasing knowledge and understanding of weed science, providing mentorship in technical writing, and regularly contributing to the development of early-career weed scientists."
Porpiglia additionally has been an active member of all regional weed science organizations and a member of WSSA for more than 25 years, including service on the society's executive board, and numerous committees.
Porpiglia's role in product development at AMVAC and American Vanguard, of which AMVAC is a wholly owned subsidiary, spans the U.S. and global organization. Prior to joining AMVAC in 2011 he held roles at Arysta LifeScience, TyraTech, and Kumiai Chemical Industry Ltd. He also led teams at legacy companies of today's Syngenta (Ciba-Geigy, Novartis) that introduced over a dozen new active ingredients at WSSA that were subsequently commercialized.
Said Dr. Porpiglia: "This award would not be possible without the commitment and support of all the great people I've been fortunate to work with over the years. It is an honor to be recognized by them."
About AMVAC Corporation
AMVAC Corporation is a subsidiary of American Vanguard Corporation. American Vanguard Corporation is a diversified specialty and agricultural products company that develops and markets products for crop protection management, turf and ornamentals management, and public safety and animal health applications. American Vanguard is included on the Russell 2000® & Russell 3000® Indexes and the Standard & Poors Small Cap 600 Index.
The Company, from time to time, may discuss forward-looking information. Except for the historical information contained in this release, all forward-looking statements are estimates by the Company's management and are subject to various risks and uncertainties that may cause results to differ from management's current expectations. Such factors include weather conditions, changes in regulatory policy and other risks as detailed from time-to-time in the Company's SEC reports and filings. All forward-looking statements, if any, in this release represent the Company's judgment as of the date of this release.
Contact Information