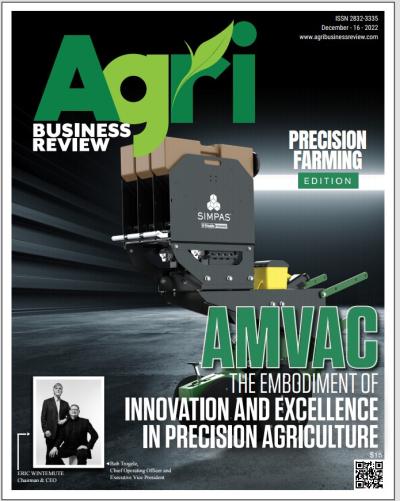 AMVAC® has been named a "Top 10 Precision Farming Solutions Provider" for 2022 by AgriBusiness Review magazine and is prominently featured in the publication's December 2022 edition.
Described by the magazine as "the embodiment of innovation and excellence in precision agriculture," AMVAC is lauded especially for its SIMPAS® prescriptive application system, SIMPAS-applied Solutions™ (SaS™) at-plant crop inputs, SmartCartridge® containers equipped with RFID-enabled Smart Tags™, and proprietary and patented ULTIMUS™ software platform to track and monitor SmartCartridge containers through each stage of the distribution channel.
Bob Trogele, AMVAC COO and EVP, is quoted extensively in the article. "Having over five decades of legacy, we offer a growing portfolio of technology solutions, including soil insecticides, nematicides, nutritional biologicals, and precision application systems through owned and operated manufacturing plants," Trogele told the publication. "These unique capabilities make us an emerging leader in soil health, preservation, and productivity to drive growth and sustainability.
AgriBusiness Review is a leading print and digital magazine which caters to over 83,000 qualified print and digital subscribers in the U.S. Crop management, precision farming, agriculture chemicals, smart farming, and agriculture supply chain management are among the subject areas featured in the magazine, which aims to serve key agricultural stakeholders including crop farmers, farm managers, and ag retailers.
Read the AMVAC profile and full digital edition of AgriBusiness Review here.
About AMVAC Corporation
AMVAC Corporation is a subsidiary of American Vanguard Corporation. American Vanguard Corporation is a diversified specialty and agricultural products company that develops and markets products for crop protection management, turf and ornamentals management, and public safety and animal health applications. American Vanguard is included on the Russell 2000® & Russell 3000® Indexes and the Standard & Poors Small Cap 600 Index.
The Company, from time to time, may discuss forward-looking information. Except for the historical information contained in this release, all forward-looking statements are estimates by the Company's management and are subject to various risks and uncertainties that may cause results to differ from management's current expectations. Such factors include weather conditions, changes in regulatory policy and other risks as detailed from time-to-time in the Company's SEC reports and filings. All forward-looking statements, if any, in this release represent the Company's judgment as of the date of this release.
Contact Information