AMVAC is pleased to announce that SIMPAS-applied Solutions™ (SaS™) along with communications agency Archer Malmo has won a 2022 national first-place award from the National Agri-Marketing Association (NAMA) — the first for SaS and the third first-place award overall for the SIMPAS® system.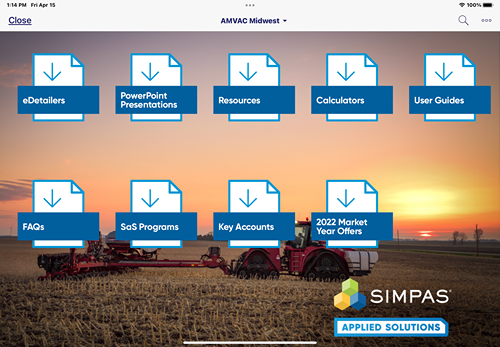 Spearheaded by the efforts of Jim Lappin in tandem with Archer Malmo, SaS won the prestigious award for its recently developed and launched iPad E-Detailer — iPad-optimized web applications that live on a third-party sales enablement platform (Showpad). With the E-Detailer, AMVAC field representatives are armed with tools to enable the sales process and enlist retail agents for SaS. Web applications include an ROI calculator demonstrating the benefits of prescriptive versus whole-field application of SIMPAS-applied Solutions. Another calculator determines the minimal increase in bu/A required to offset the cost of the SIMPAS application system.
The iPad app also provides a collection of tools and resource materials in a "digital filing cabinet." Sales sheets, photos, and videos can be updated instantly so that field-reps have up-to-the-minute information. Additionally, no cell service or wifi connection is required to access any of the content or use any of the tools.
The NAMA award especially recognizes the effectiveness of AMVAC's communications efforts for the SIMPAS system, for which AMVAC primarily has relied on direct-to-customer and public relations tactics versus traditional advertising categories where a majority of NAMA's awards historically are given.
The national award, which follows a SaS win in a regional NAMA competition, was bestowed by a national judging panel of industry marketing and agency personnel in the category of Non-Smartphone Digital Media where it faced stiff national competition.
Kudos to Jim Lappin, Archer Malmo, and the entire SaS and SIMPAS teams for this impressive honor!
About AMVAC Corporation
AMVAC Corporation is a subsidiary of American Vanguard Corporation. American Vanguard Corporation is a diversified specialty and agricultural products company that develops and markets products for crop protection management, turf and ornamentals management, and public safety and animal health applications. American Vanguard is included on the Russell 2000® & Russell 3000® Indexes and the Standard & Poors Small Cap 600 Index.
The Company, from time to time, may discuss forward-looking information. Except for the historical information contained in this release, all forward-looking statements are estimates by the Company's management and are subject to various risks and uncertainties that may cause results to differ from management's current expectations. Such factors include weather conditions, changes in regulatory policy and other risks as detailed from time-to-time in the Company's SEC reports and filings. All forward-looking statements, if any, in this release represent the Company's judgment as of the date of this release.
Contact Information