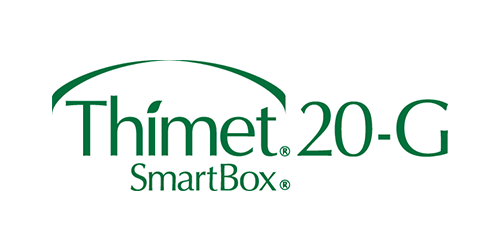 THIMET 20-G SmartBox
Insecticide
Thimet 20-G® Insecticide is labeled for use on several key crops including peanut, sugarcane, cotton and soybean. Thimet has activity on soil insects such as wireworms in sugarcane and potatoes. In addition, it has systemic activity which provides control of a variety of early season pests such as thrips and leafminer in several crops. Consult the label for specific use by crop.
Applications
Sugarcane – Thimet is effective in controlling wireworms in sugarcane resulting in better stands and higher sugar yields. It is labeled in FL sugarcane and in LA through an SLN label.
Peanut – Thimet provides systemic control of thrips. In addition, in the southeast peanut producing areas, Thimet is recognized as a key tool to manage Tomato Spotted Wilt Virus by activating the plants natural defense mechanisms.
Cotton – Thimet provides early season control of thrips in cotton.
Soybean – Thimet has shown to be effective in management of the emerging pest, soybean gall midge covered under a 2ee recommendation, in parts of the Midwest states.
Review the label for use in other crops including beans, field corn, sweet corn, potatoes, sorghum and sugarbeets.
Features
Active on key soil pests such as wireworm in certain crops.
Systemic activity provides control of thrips and other early season sucking pests.
Activates natural defense mechanism in peanuts for management of TSWV.
Dependable and proven performance
Closed handling system required for use.
Registered States
Find a Retailer
Get what you need, nearby.
Downloads
Label & SDS
Supplemental Documents
Label & SDS
Supplemental Documents
AMVAC's website is updated regularly and may not contain the most current EPA registered product label or safety data sheet. Please contact your local AMVAC representative to confirm you have current product information. It is the sole responsibility of the end user to read and follow product use directions and to comply with all federal, state or local laws. This product may not be registered in all states and users are advised to confirm that the product is registered in all states of intended use.
THIMET is a Restricted Use Pesticide.