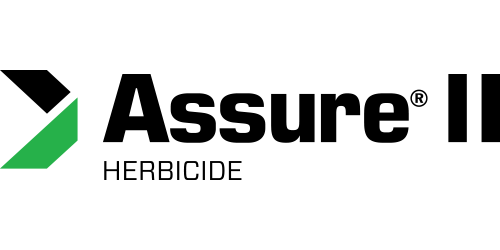 Assure II
Herbicide
Assure® II herbicide is formulated to protect a wide variety of crops including Enlist™ corn hybrids, soybeans, cotton and more. A postemergence application controls a broad spectrum of problem grass weeds including foxtail species and volunteer corn, and perennial grass weed like quackgrass and johnsongrass.
Applications
Application rate for most crops is 5-12 fl oz/A.
Applications should target actively growing grass weeds less than 6 inches tall.
May also be used to control volunteer corn that does not contain the Enlist trait in fields currently planted with Enlist corn hybrids.
Assure II will not control volunteer corn that contains the Enlist trait.
Features
A selective herbicide that controls annual and perennial grass weeds in canola, cotton, chickpea, dry beans, dry and succulent peas, lentil, snap bean, soybean, sugarbeet, sunflower and Enlist field corn.
Provides excellent control of up to 12- and 18-inch volunteer corn using 4 and 5 fl oz/A, respectively, with required adjuvants.
Registered States
Find a Retailer
Get what you need, nearby.
Downloads
Label & SDS
Supplemental Documents
Label & SDS
Supplemental Documents
AMVAC's website is updated regularly and may not contain the most current EPA registered product label or safety data sheet. Please contact your local AMVAC representative to confirm you have current product information. It is the sole responsibility of the end user to read and follow product use directions and to comply with all federal, state or local laws. This product may not be registered in all states and users are advised to confirm that the product is registered in all states of intended use.