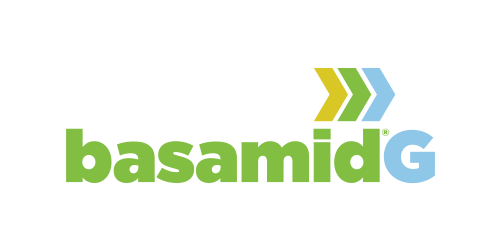 BASAMID G
Fumigant
BASAMID® G contains the active ingredient dazomet, the only granular soil fumigant on the market. It controls listed weeds, including bermudagrass and Poa annua seeds, nematodes, and soil diseases. BASAMID G works quickly and allows new seeding or sprigging of greens, tees, or fairways in as little as eight days after treatment.
Applications
Can be applied using mechanical or water incorporation
Primary control of weed seeds, diseases and nematodes in the soil
Features
Active Ingredient: Dazomet 99.0%
IRAC Group 8F Insecticide
Mode of Action: Dazomet is transformed into MITC gas, which diffuses through soil pores to sterilize the soil
BASAMID G is a Restricted Use Pesticide
Registered States
Contact Your Distributor
Reach out to your preferred distributor to find the latest AMVAC products.
AMVAC's website is updated regularly and may not contain the most current EPA registered product label or safety data sheet. Please contact your local AMVAC representative to confirm you have current product information. It is the sole responsibility of the end user to read and follow product use directions and to comply with all federal, state or local laws. This product may not be registered in all states and users are advised to confirm that the product is registered in all states of intended use.
This product is a Restricted Use Pesticide. BASAMID is a U.S. trademark of Kanesho Soil Treatment SPRL/BVBA.